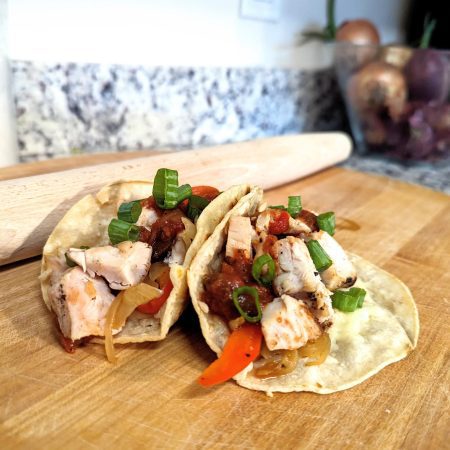 Protein-Packed Fajitas for a Healthy Meal
Enjoy a protein-packed and healthy meal with these quick and easy fajitas. Tender chicken, vibrant bell peppers, and onions are cooked to perfection and wrapped in corn tortillas. Topped with melted cheese and served with salsa, these flavorful fajitas are a delicious choice for a fitness-friendly and nutritious dinner option.
Equipment
Frying pan

Knife

Cutting board

Spatula

Lid
Ingredients
2

Corn Tortillas

5

ounces

Chicken Breast

¼

Onion

¼

Bell Pepper

Salsa

Green Onion

2

ounces

Fat-Free Cheese
Instructions
Preheat a frying pan and cook the chicken: Place a burner on medium heat. Cut the chicken breast into bite-sized pieces and fry them in a non-stick pan sprayed with zero-calorie cooking oil. Set the cooked chicken aside and season with salt and pepper to taste.

Cook the onions and peppers: In the same pan, add the sliced onions and bell peppers with an additional spray of zero-calorie cooking oil. Season with salt and pepper to taste. Sauté until the vegetables are tender.

¼ Onion,

¼ Bell Pepper,

Green Onion

Spray tortillas and melt cheese: Lightly spray both sides of the corn tortillas with cooking oil. Place them in the pan and cook on one side until slightly crispy. Flip the tortillas and sprinkle the shredded fat-free cheese on top. Cover the pan with a lid and allow the cheese to melt onto the tortillas.

2 Corn Tortillas,

2 ounces Fat-Free Cheese

Assemble and enjoy: Remove the tortillas from the pan and fill them with the cooked chicken, sautéed onions and peppers. Top with salsa and garnish with chopped green onions. Serve immediately and enjoy your flavorful fajitas.
Notes
Customize your fajitas by adding additional toppings such as sliced avocado, sour cream, or chopped fresh cilantro.
Serve the fajitas with a side of brown rice, black beans, or a fresh salad for a complete and satisfying meal.
To make it spicier, you can add some chili powder, cumin, or hot sauce to the chicken while cooking.
If you prefer a vegetarian option, you can replace the chicken with tofu or sautéed vegetables.
These fajitas are great for meal prep. You can make a larger batch and store the leftovers in the refrigerator for quick and easy meals throughout the week.
Experiment with different types of tortillas, such as whole wheat or spinach tortillas, for added variety and nutritional benefits.