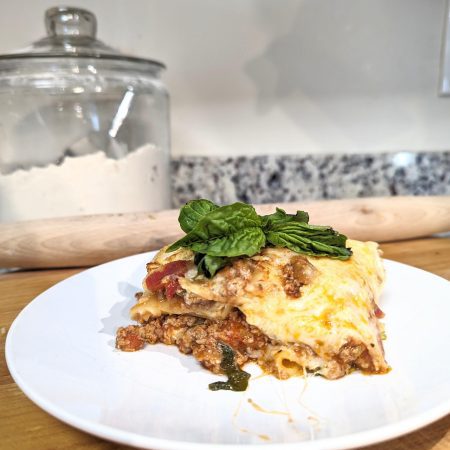 Protein-Packed Powerhouse: Nourishing Homemade Lasagna Recipe
This protein-packed homemade lasagna recipe is a true powerhouse dish. With flavorful Italian pork sausage and extra lean ground turkey, it provides a generous 48g of protein per serving. Layered with cottage cheese, ricotta cheese, and a blend of mozzarella cheeses, this lasagna delivers a satisfying and wholesome experience. The red sauce, made with crushed tomatoes and fresh basil, adds a burst of delicious flavor. With a cook time of 35-40 minutes at 425°F, you can enjoy this nutritious lasagna that boasts 475 calories, 26g of carbs, and 20g of healthy fats. Perfectly balanced and deeply satisfying, it's a meal that will leave you feeling nourished and satisfied.
Equipment
1 Large deep boiling pot

1 Blender

1 Sheet pan or baking dish

1 measuring cups and spoons

1 mixing bowls

1 Cooking utensils (spatula, spoon, etc.)

1 Knife and cutting board

1 Oven
Ingredients
1

Pound

Italian Pork Sausage

2.5

Pounds

Extra Lean Ground Turkey

16

Ounces

Cottage Cheese

16

Ounces

Ricotta Cheese

1 ½

Cups

Regular Mozzarella Cheese

2 ½

Cups

Fat-Free Mozzarella Cheese

2

Tablespoons

Olive Oil

2

Cans of Crushed Tomatoes

14.5 Ounce Cans

8

Ounces

Oven-Ready Lasagna Noodles

Fresh Basil
Instructions
Prepare the Red Sauce:
Cook Italian pork sausage and extra lean ground turkey in a large pot until fully cooked.

Add one can of whole crushed tomatoes and one can of blended crushed tomatoes to the pot.

Boil the mixture until the sauce is fully reduced.

Season with olive oil, fresh basil, salt, and pepper.
Prepare the Ricotta/Cottage Cheese Blend:
Blend cottage cheese until fully dissolved.

Mix in ricotta cheese and chopped fresh basil.

Season with salt and pepper.
Assemble the Lasagna:
Preheat the oven to 425 degrees Fahrenheit.

Spread a layer of red sauce in a baking dish.

Place oven-ready lasagna noodles on top of the sauce.

Spread the ricotta/cottage cheese blend over the noodles.

Sprinkle regular mozzarella cheese on top.

Repeat the layers of sauce, noodles, cheese blend, and mozzarella cheese.
Bake the Lasagna:
Bake in the preheated oven for 35-40 minutes until the cheese is golden and bubbly.

Let it cool for a few minutes before slicing and serving.
Notes
Power-packed Protein: This lasagna is not only delicious but also loaded with protein, thanks to the combination of Italian pork sausage and extra lean ground turkey. It's a perfect choice for those looking to fuel their bodies with muscle-building nutrients.
Make it Your Own: Don't be afraid to get creative with this recipe! Add your favorite protein-rich ingredients like spinach, mushrooms, or grilled chicken to boost the nutritional value even further.
Meal Prep Magic: This lasagna is perfect for meal prepping! Prepare a big batch over the weekend and portion it into individual servings for quick and protein-packed meals throughout the week. It's a time-saving solution for busy individuals focused on their fitness goals.
Gluten-free Option: If you follow a gluten-free diet, simply swap regular lasagna noodles with gluten-free alternatives. You can enjoy the same delicious flavors while staying true to your dietary preferences.
Leftover Boost: Don't let any leftovers go to waste! Reheat a slice of this protein-packed lasagna for a satisfying and nutritious meal option. It's a great way to refuel your body after a workout or busy day.