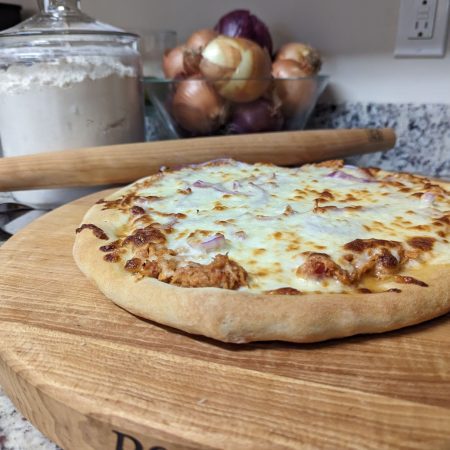 BBQ Chicken Pizza
This BBQ Chicken Pizza recipe is a delicious and protein-packed option for lunch or dinner. With a homemade pizza crust and flavorful BBQ chicken topping, this recipe is both satisfying and nutritious.
Ingredients
Dough
1

cup

Water

1/2

tbsp

Yeast

2

tbsp

Olive oil

2

cups

Flour

1

tsp

Salt
BBQ Chicken
2

Cups

BBQ Sauce

6

Chicken Breast
Toppings
1

Cup

Fat Free Mozzarella Cheese

1

Cup

Low Fat Mozzarella Cheese

1

Red Onion
Instructions
Prepare Pizza Crust
In the bowl of a stand mixer add in flour, sugar, mix. In a microwaveable bowl add in water and bring to 95F. Microwave in 30 second bursts until you reach temperature. Add in Yeast and let sit for 5 minutes. Add Yeast and Olive Oil to the flour and Sugar mixture. Mix on low until a dough forms. Allow to sit for 30 minutes. Add in salt to the risen dough and mix. Roll out half into Pizza Pie shape and allow to rest for 10 minutes.
BBQ Chicken Prep
Place Chiken into a Crock Pot with BBQ sauce and allow a few hours for the chicken to become pull apart. Pull Chicken. I prefer to make my BBQ sauce from scratch to control for sugar and other ingredients.
Bake at 550F
Preheat your oven to 550F with a pizza stone in the over while it comes to temperature. Once the oven is hot remove the pizza stone carefully with oven mitts and place on the stovetop. Carefully add your pizza dough to the hot stone and build your pizza. Add on red onion, chicken, and cheese. Place in the oven and bake for between 7-10 minutes, checking frequently.
Notes
TIPS
Use G. Hughes Sugar-Free BBQ Sauce when cooking chicken, or- BBQ Sauce is very, very easy to make. Add Catsup, Vinegar, Garlic Powder, Onion Powder, Brown Sugar, Molasses, Salt, and Pepper in the Crock Pot. Let the chicken cook in this mixture and you will wind up with a killer sauce. I also add in a can of Crushed Tomatoes when I am in the mood. You can buy Protein Cheese or Fat-Free Cheese from Walmart. This will make two pizza. Serving size per slice of pizza when cut into 8 pieces.
The crust is made with flour, yeast, sugar, olive oil, and salt. The BBQ chicken is prepared by slow-cooking chicken breasts with BBQ sauce until they can be easily pulled apart. The pizza is assembled with chicken, red onion, and a combination of fat-free and low-fat mozzarella cheese. It is then baked at a high temperature of 550 degrees Fahrenheit for 7-10 minutes until the crust is crispy and the cheese is melted. Each slice of pizza provides approximately 353 calories, 44g of protein, 28g of carbs, and 7.5g of fats. You can customize the BBQ sauce or choose a sugar-free option for a healthier twist. Enjoy this delicious pizza, and feel free to adjust the ingredients and portion size to suit your preferences.