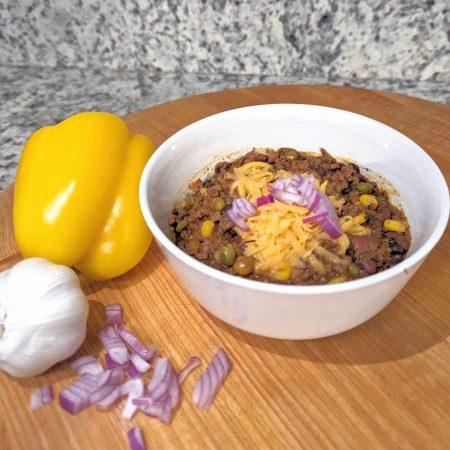 "Protein Chili: Flavorful Fuel for Your Day
This Protein Chili recipe is a flavorful and nourishing dish packed with protein to fuel your day. Made with extra lean ground beef, black beans, red beans, tomatoes, and a variety of aromatic spices, this chili is a satisfying and wholesome meal option. The ground beef is seasoned with a blend of spices to create a rich and hearty flavor. Combined with the beans and tomatoes, this chili provides a protein-packed boost to your diet. Enjoy this delicious and easy-to-make protein chili as a satisfying meal that will keep you energized and satisfied.
Equipment
1 Large pot or dutch oven

1 cooking utinsels

1 measuring spoons/cups

1 can opener

1 cutting board and knife
Ingredients
2

Pounds

Extra Lean Ground Beef

1 15

Ounce

Can Black Beans

1 15

Ounce

Can Red Beans

1 15

Ounce

Can Tomatoes

16

Ounces

Beef Stock

2

Cups

Frozen Peas

2

Cups

Frozen Corn

2

Cups

Fat-Free Cheese

1

Tablespoon

Dry Chili Powder

1

Tablespoon

Dry Onion Powder

1

Tablespoon

Dry Garlic Powder

1

Tablespoon

Dry Paprika

1/2

Tablespoon

Cumin
Instructions
Brown the Beef:

In a large, deep boiling pot, add the extra lean ground beef.

Fry the ground beef over medium heat until fully cooked and browned.

Add the mixture of dry chili powder, onion powder, garlic powder, paprika, and cumin to the cooked ground beef.

Allow the spices to fry with the beef for 30 seconds to 1 minute, stirring to evenly coat the meat.

Add Beans, Tomatoes, and Stock:

Drain and rinse the black beans and red beans from their cans.

Add the black beans, red beans, and canned tomatoes to the pot with the beef.

Pour in the beef stock, ensuring that the ingredients are well-covered in liquid.

Include Peas and Corn:

Add the frozen peas and frozen corn to the pot.

Stir all the ingredients together to combine.

Simmer the Chili:

Bring the chili to a full rolling boil over medium heat.

Once boiling, reduce the heat to medium-low and let the chili simmer.

Allow the chili to simmer until it reaches your desired consistency. This will typically take around 35-40 minutes, but you can adjust the cooking time to your preference.

Serve and Enjoy:

Ladle the protein-packed chili into bowls.

Top each serving with a generous amount of fat-free cheese.

Optionally, garnish with chopped red onion or other desired toppings.

Serve the chili hot and enjoy!
Notes
This recipe is very easy to change up according to taste. If you do not like peas or corn, feel free to add in other veggies like bell peppers. You can also experiment with different variations:
Add a splash of honey for a sweeter chili.
Try using hot Italian sausage for a spicier version.
Calories are based on serving 7 portions from the pot. Adjust the serving size according to your preferences and nutritional needs.